This is my personal experience with Chaldal (Bangladeshi Grocery giant) for years, and here I explained how it saves time and helps my family!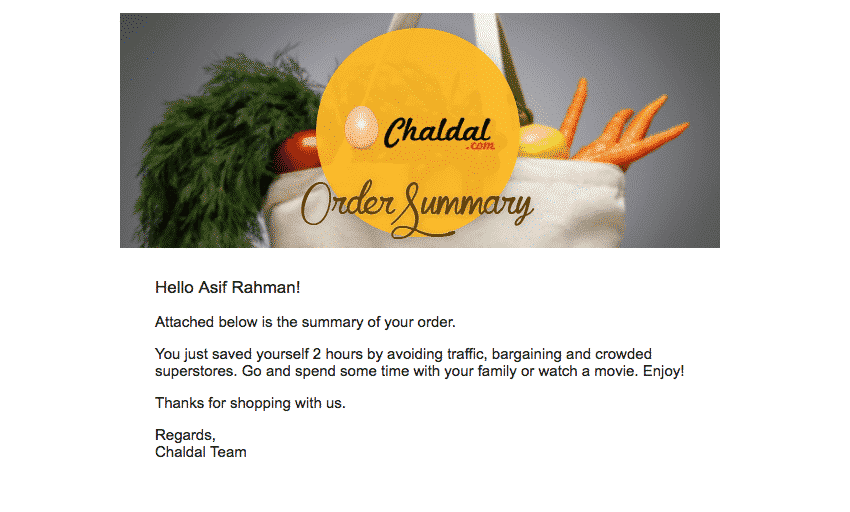 Chaldal saves more than 2 hours per week for my family. My family shifting mostly into Chaldal for several reasons –
1) Their collection! They have got the biggest collection of products for daily needs. They are for sure far bigger than the biggest super shop we have got in town, in terms of collection.
2) They are cheaper! Even without any discount code, most products are slightly cheaper than super shop or MRP stated on the pack, even if it's just 1 TK less. My parents are generally very picky, but now they also certify Chaldal is better option to do usual grocery.
3) Their website! I am literally in love with it. It's super fast, the category is well organized, Search work like magic. The inventory is also very well maintained.
4) The delivery! Once just to test, I ordered about 50+ items, the weight of the total package was over 30kg, I was wondering how they deliver it. But before even I got back to home, they already delivered, well within time, and all item perfectly fine, no question asked. I always got my order delivered within few hours as promised. Logistic is one very crucial thing Chaldal got it perfected.
5) If I am not in the country, my Mom actually ordered from Chaldal via phone, they were able to find my account from my name or phone number and delivered to my home perfectly, and my Mom paid in cash, after delivery. Though I personally always prepay via card, but I understand COD could be useful for many people, though with time we should move into online transaction! (Lol, not because I own aamarpay, online transaction is must for the growth)
So, if I get what I need, cheaper, and no hassle of traffic and carrying and I am 100% confident about the quality of the products why I would not use it on daily basis? I use Chaldal for buying regular grocery to baby stuff, and also stationary and bakery items. It's just so easy to add a product in the cart, and get it delivered in the home within few hour, it's almost addicting!
Chaldal is a fine example of how our startup scene is growing in right way. This is an honest review, and I have not invested in Chaldal! 
😀 It's true thatZia is my classmate from North South University, and I know him for over a decade. And I personally admire Waseem a lot, he is one of the finest, most capable, and well deserving entrepreneur of our age. I am so happy he came back to Bangladesh! Despite of my personal connection with Chaldal co-founders, this post is because of the service they created and how it's helping me and my family. In fact Zia will be very shocked that I wrote in this details! But you guys have done an amazing job!
*I thought about writing this for awhile, never got to finish and publish, but now people started shouting we don't promote our local business enough, so it pushed me to finish and share! Thanks anyway!
This is actually from my Facebook post, published back in November 2016, but its 100% true even after 1 years. So, publishing here for easy finding.