This might happen while you trying to JailBreak then something went wrong, and you end up with a iPhone which had nothing but Apple Logo in it. And you can't do any thing with it. You can't turn it off completely or restart or even no response while you connect it to PC/Mac and no response from iTune too.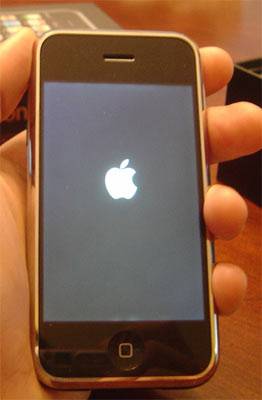 Here I will explain solution to this problem and details about DFU and Recovery Mode.
Best solution will be, put your iPhone into DFU Mode(Device Firmware Update mode). Then restore firmware via iTune. Putting iPhone into DFU mode might be pain in ass, but it not so tough just follow the process few times if you can't reach in DFU. Here to remember DFU mode and recovery mode is different. DFU is good for Firmware update.
Recovery Mode : Recovery Mode is a state of iBoot used during standard upgrades and restores. As iBoot is active, it does not allow you to downgrade your device's software. Also, unless it is 'pwned,' it will not allow custom firmware to be flashed.

DFU Mode : DFU Mode is a special mode where the device can still interface with iTunes, yet it does not load the iBoot. The screen will appear totally black in DFU mode, so you can't guess whether the device is in DFU or powered down from simply looking at the screen. Because iBoot and the OS are not loaded this exploit makes us able to downgrade your iPhone firmware or upgrade with a custom firmware created by Pwnage tool.
How to Put Your iPhone in DFU mode
1. Connect your iPhone via USB with PC.
2. Shut it down but keep connected.
3. Press Power Button for 2 sec.
4. Without releasing power button hold Home button too(use another hand may be) Keep both button pressed for 10sec(exactly).
5. Release power but keep holding home until the computers beeps (observed on a PC) as a USB device is recognized.
6. A few seconds later iTunes should detect your iPhone.
7. If the Restore Logo is present on the screen, you are in Recovery Mode, not DFU.
Check This Video Tutorial

How to put your iPhone in recovery mode :
1. Turn the device completely off and disconnect it from cable/dock.
2. Hold down the home button.
3. While holding down the home button connect to a computer with a cable (easiest) or dock.
4. Keep holding down the home button until you see a connect-to-itunes screen You are now in recovery mode.
Doing both will solve create a oppurtunity to solve that iTune Logo stuck situation.
Thanks for reading this guide i hope it helps you guys. Please comment below about your experience.
Get Details iPhone News & free Tutorials from TheTechJournal.com
You could always get support from UnlockAlliPhone.com