In this tutorial I will show you How To Tether An iPhone 3G To any Operation system including Windows XP, Vista, Windows 7, Ubuntu and also Mac OS X and use internet connection. Bangla Version could be found here – BDBlog.Net(Ok, I have dropped BDBlog.net project, find the Bangla version at this TechTunes page.)
What You Need?
# iPhone 2G. 3G or 3Gs or 4G 3G HD
# Data Connectivity package on Mobile Subscriber. For my case I am using GrameenPhone p6 Package.
# Normal iPhone Data Cable/ PC Charger Cable.
# iTune Installed on System. Version must be 8.2+
thats all no other application.
Process:
For this process you must have Unlocked iPhone, or atleast JailBreaked. There is Free Unlocker for Older iPhone and Firmware. For latest iPhone 2G, iPhone 3G, iPhone 3S, iPhone 4G & iPad Unlocking and Best JailBreaking Solution & Support visit UnlockAlliPhone.com
1. First make your iPhone Tether enabled. If you already have data connectivity enabled, then you will need Tether Profile.
a) From your iPhone Safari Browser visit this page
http://help.benm.at/tethering.php
or this easy short link
http://LinkX.In/i3
b) Select Your Country and Carrier then download profile and install.
c) If you cant find your country then scroll down to the end of that page and click "Create your own"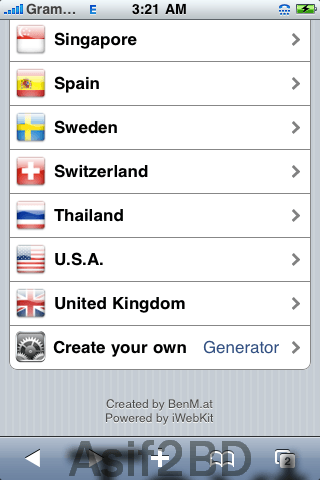 d) Now just fill the information it ask. Put Carriername, APN and User,Password if have any. For my case the Carriername is "GP", APN is "gpinternet", and no User & Password needed. Just Click Download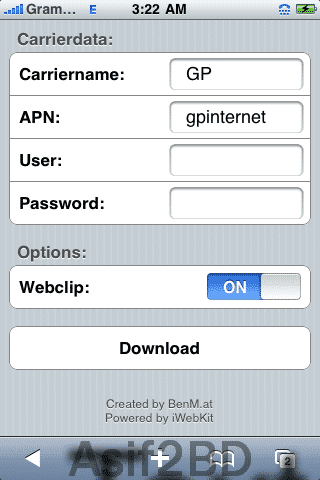 e) Click Install and installing Tethering on iPhone will be completed.
2. Now you need iTune. Get any suitable version from this link. But make sure you have version 8.2+. Starting from iTune 8.2 it have carrier infos saved which help tethering possible. Just download and install it in your PC.
The link given here is only for Windows 32-Bit. Mac user supposed to have it already installed or contact Apple. If any Ubuntu User need help please comment here.
3. Now Connect iPhone with PC/Laptop with Normal iPhone Data Cable/ PC Charger Cable. No need to start iTune.
4. Now we have to Turn on Tethering from iPhone to start Browsing.
On iPhone Click on Settings. Go to General>Network>Internet Tethering, and turn on Tethering.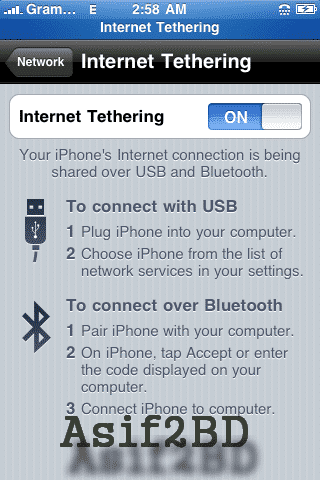 Whole Process is done. Now All PC Supposed to be using iPhone as Modem and you should be Connected to Internet via Your iPhone.
If you already have another Net Connection, still this Tethering internet will be in primary connection, means it will be automatically active. For testing Just Check Your IP address here – AmarIP.com
How do you know its workings perfectly?
If it is successful, you will see a blue flashing Bar with the word "Internet Tethering" on your iphone.
BTW your iPhone will be busy when you actively using Tethering. And you will be billed as per your Data Connectivity.
For More Advance Guide about "Tether and Connect iPhone (1G, 2G and 3G) as Modem for Internet Gateaway" Check This Link.