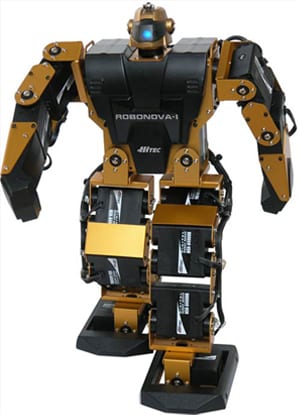 Actually Its called RoboNova-1. Its iPhone Dev Team's MuscleNerd's son. Lol. 😀 I am not kidding. He said this himself. He has got RoboNova-1, and in all his video and image we could see this. He might bring it one DevCon-17. Lol.
But main thing is its a kool looking robot. Its very friendly. Its amazing. Its able to do lots work. Lol, Fun mainly. Though MuscleNerd says it could Unlock & JailBreak iPhone and could do coding, hacking.
This exciting humanoid robot offers educators, students and robotic enthusiasts a complete robot package. The ROBONOVA–I can walk, run, do flips, cartwheels, dance moves and once programmed, is ready to compete in any Robo One Class "J" competition.
Available two ways, as a kit, so you can enjoy building your robot yourself, or as a pre–assembled, "RTW", "ready to walk" instant gratification robot.
ROBONOVA is the first working humanoid robot of its kind with an advanced level of functionality normally only found in high-end research robots.
Watch This amazing Video, how this robot could dance.

This Robot cost only $850-$1200 USD. Its very cheap considering its functionality. Its available to buy from official site and Amazon.
Watching RoboNova-1 it becomes more clear that Robot future is not very far. We will have Robots in home very soon. Just need to develop Low power but powerful micro-processor.
More Infos:
http://www.lynxmotion.com/Category.aspx?CategoryID=91
http://www.robonova.com/main.php