Finally archived this. Now I have over 1000 Followers. In last month (June, 2009) I had like 20-30 Followers might be. Then I start getting serious about Twitter.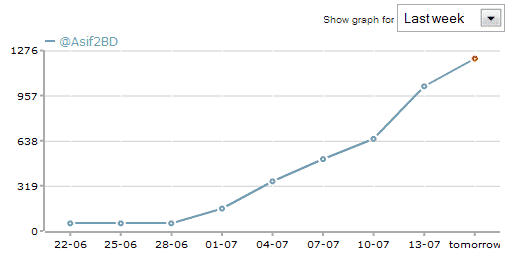 Now I am maintaining other Twitter A/C for my other businesses. I used few tricks, and now I am starting to see good result. 😀
Now I am Top 20 Twitter user in my country, pretty soon it will be better I hope. And yes I'm generating clicks and earning from twitter as well. I am thinking about starting more business about Twitter. A Site will come to serve all purposes, a script may come. And still thinking about making a training site for teaching people about earning from twitter. As now I believe I could increase followers of any Twitter account by 500-1000 easily in few days work, and all will be valid way, nothing like illegal so no chance of getting suspended.
If anybody need help or guide about Twitter reply here or contact me, I will try to help personally.
BTW Click Here to Follow me on Twitter.