I was looking at Bill Crosby's Twitter Traffic Machine. Then i visited Bill Crosby's Blog, Then i noticed a wordpress plugin he used. Its name is Social Profilr. Its a cool Plugin for now-a-days.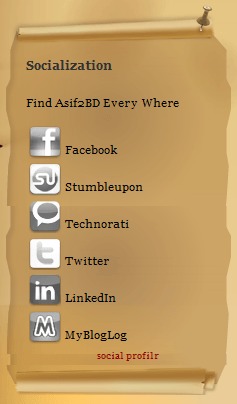 I started using it instantly in my this blog, then i find out few bug. No#1 is Technorati thing was not working. It was taking to a wrong page.
Here is Fix For It.

Go to Plugin Editor(in wordpress admin panel). Find "socialprofilr.php" click to open it. Search for this line "http://technorati.com/blogs/%s/blog". Just replace it with my fixed new line "http://technorati.com/people/technorati/%s".
Now Configure the plugin from its control panel with your required credentials. It will be up and running.
BTW get this plugin from main site: Social Profilr
Check out this blog's new Socialization Sidebar.
Thinking about making some WordPress Plugins, as my Company's begin to code in wordpress well. Today i was talking to my new developer Jamal, he wants to start working on Plugin and i already have few thoughts whats i want to see live. May be we would code some socialize Plugins soon.