Here is my First Free Word Press Theme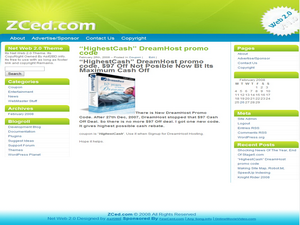 Its got sponsor within 3 min of release. Now ready to distribute, Its Proudly Sponsored By Tenant Reports.
Description:
Its Web 2.0, WedGet Ready, 3 Coloum, Easy ans cool theme.
ScreenShoot: Click Here
Demo: www.ZCed.com

DownLoad: Click Here
Rules For free use:
Its free to use bt never ever alter any how footer sponsored credite. Its not request, its basic to use.
This WordPress theme using tips:
#Extract zip
#Upload whole root "netweb2″( all file inside netweb2 including its folder) into ur "wp-contentthemes"
#Activate NetWeb2.0 from wp presentation (theme menu)
#Awesome web 2.0 running on your site