I just noticed that HostGator are offering a new deal on their dedicated server. Their basic dedicated server which they sale at $174 USD per month normally, now available at only $99 USD for 3 Month or $199 USD for first 6 Month, means direct $423 or $845 discount respectively. Server details, coupon, links inside.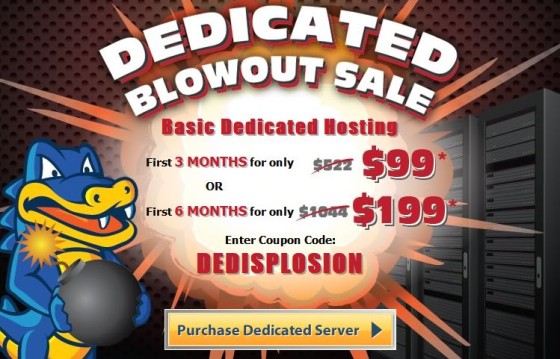 I am not saying I am Die Hard HostGator fan, but they are undoubtedly biggest shared hosting provider, claims to host over 8000000 website. I personally hate those Shared Hosting package, not only from HostGator, but from other provider too. VPS is a good starting point, but Dedicated is best. Today I suddenly find out the Basic Dedicated Server by HostGator is on sale, not just any sale, a massive sale. This server usually costs $174 per month, and in today's offer you will really get it in only $99 USD for first 3 month or $199 USD for first 6 month. Means direct $423 or $845 discount.
Server Configuration:
In My Language:
# Processor: Intel Xeon E3-1220LV2 2.3GHz
# RAM: DDR3 4 GB
# Hard Disk: 500 GB RAID-1 Drives
# Bandwidth: 10 TB
# Dedicated IP: 5
# Free cPanel
# LAMP Stack Preinstalled With All Basic stuff
# HostGator Support
In their language
Intel Xeon E3-1220LV2 2.3GHz
10 mbps Uplink
4 GB DDR3 Memory
500 GB RAID-1 Drives
10 TB Bandwidth
Up to 5 Dedicated IPs
FREE cPanel
Unlimited Domains
Private SSL Support
QuickInstall
E-Commerce Solutions
IP Deny Manager
MySQL, phpMyAdmin
Unlimited Email and FTP Accounts
CGI, PHP, Perl, Python, Cron
99.9% Uptime Guarantee
24/7 Support
No Contract
My Review
Its dedicated server, so you could install whatever you want. And if you are not server geek, then also no issue, it comes cPanel and all basic stuff Preinstalled. And HostGator really have a fanatic support, via phone or email it always works.
What Could Be Its Best Use?
1) You could start a hosting business and sale hosting or even sale reseller hosting. (Note: Free cPanel and WHMCS License)
2) Move all of your site and hosting account under one hood.(Note:Free Migration of cPanel account)
3)
Dedicated Server Offer Details:
Usual Price: $174/ Month
Offer:
$99 USD for First 3 Month
$199 USD for First 6 Month
Which makes Monthly costs only $33 USD
You directly save:
Direct $423 or $845 discount for 3 month and 6 month plan.
How To get The Offer:
Get Offer From This Link: https://masifrahman.com/Go/HGDedicated99
Use Coupon: DEDISPLOSION
Rules:
* Please note this special offer is a limited-time promotional price available to new customers and is valid for the Initial Term only, not for successive or renewal periods.
Disclaimer:
This post contains affiliate links.